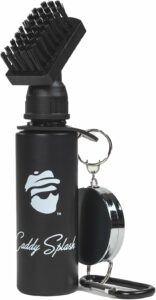 The grooves of a gulf club need to be clean to generate optimal contact, control, and spin.
The Caddy Splash Golf Water Brush will keep your clubheads clean as you're playing a round.
The water brush comes with the following:
A leakproof, 4-ounce water bottle
A retractable brush with a large nylon bristle head
An 18″ retractable cord and carabiner that attach to your bag
The nylon bristles are firm, non-shedding, durable, and won't scuff or scratch your clubheads.
At 7 1/2 inches long, this highly-portable, leakproof water brush is an excellent solution to keeping your clubheads clean.
Buy for yourself or as a perfect small golf gift.
If you like The Aggressive Fade, check out our sister sites: