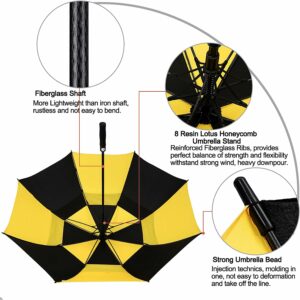 Do you know one of those nutty golfers that frequently plays golf in the rain? Since therapy is expensive, you could buy him one of these double-canopy, oversized umbrellas.
Available in twenty-four color combinations and five sizes — 47″, 54″, 62″, 68″, or 72″. These highly-rated umbrellas are large enough for two-three people.
The umbrellas are made of high-quality, water-resistant 210T Pongee fabric, with a rugged fiberglass shaft and eight reinforced ribs. They are strong enough to protect from heavy rain, sun, sleet, etc.
The umbrellas are designed with vented double canopy construction. They won't easily flip up, providing maximum protection even in harsh conditions.
If you like The Aggressive Fade, check out our sister sites: