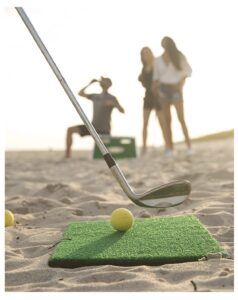 Ever wanted to play cornhole with a wedge and golf balls? CHIPPO makes this great idea a reality.
CHIPPO is highly portable and can be set up wherever your next party is. Beach, backyard, park, wherever you are going to be.
The game comes with:
Two reinforced plastic, target boards covered in artificial turf

Each board has netting under the holes to catch winning shots

Two heavy duty chipping mats

Six high-density foam practice balls by almostGolf
A great backyard game for all folks who would like to chip while they hang out with friends.
If you like The Aggressive Fade, check out our sister sites: