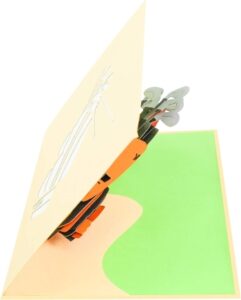 Perfect birthday, greeting, or holiday card for the golfer in your life.
The ultra-slim profile will surprise the recipient as the card pops up into a golf bag and clubs.
The card is blank and is 7.5″ by 6″ and comes with a custom envelope for gifting.
The thick, high-quality paper stock is imported from Japan and Italy. The design is 100% laser cut and assembled by hand.
This pop up golf club card truly is a delight and will be enjoyed by the person who receives it.
If you like The Aggressive Fade, check out our sister sites: