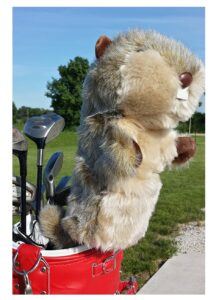 No golf head cover will make such an immediate impression as this oversized gopher inspired by Caddyshack.
The gopher will immediately cause anyone who sees him to smile as they start reeling off their favorite Caddyshack lines.
"I'm all right. Nobody worry 'bout me".
This high-quality cover will accommodate most drivers up to  460 cc in size.
Perfect for any golfer who likes a little fun in their game.
If you like The Aggressive Fade, check out our sister sites: