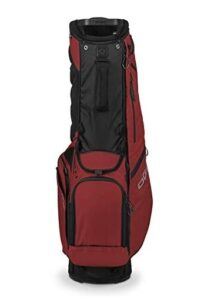 OGIO has a great saying for its XIX Women's Stand Bag.
"We Didn't Just Pink It and Shrink It"
The XIX was designed by women and customized for the needs of female golfers.
From a basics perspective, the 4.4 lb full-featured bag has a 5-opening top and high-quality stand and shoulder strap systems.
From a customized design perspective:
The hip pad has been specifically designed to fit a woman's body
The shoulder straps are also better designed for females and are more adjustable vertically and laterally
Customer reviews rave about the number and variety of pockets
Lastly, the XIX is shorter than a typical men's stand bag to accommodate shorter clubs better
The XIX is a great stand bag for female golfers who love to walk the course.
If you like The Aggressive Fade, check out our sister sites: