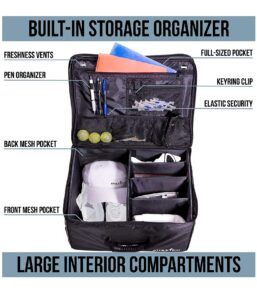 Have you ever been driving your car and heard random golf balls rolling around the interior? Or, get to the golf course and need help finding your spare golf gloves or extra tees?
The Athletico Golf Trunk Organizer can solve these problems. It can hold shoes, clothing, balls, hats, tees, gloves, and other golf tools and accessories.
This 17″ wide x 13″ deep x 9″ high storage organizer has multiple removable dividers to customize the space to your needs. It can be folded down flat when it is not in use.
The Athletico Golf Trunk Organizer is durable and built to last. It is made of 600D Oxford fabric with reinforced side walls. In addition, the Organizer has built-in grommets and ventilation to allow your gear to breathe.
It's a great gift for golfers who might need a little help keeping their golf gear organized.
If you like The Aggressive Fade, check out our sister sites: