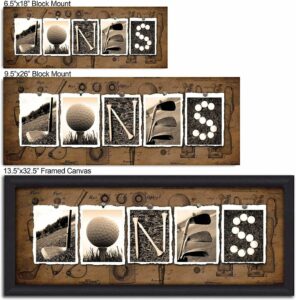 Some folks want their names in lights.  This is the next best thing for avid golfers. 
Get your name in letters shaped by golf images.
A truly unique gift for golf fanatics out there. Or, for your man cave.
Available in two different styles of letters/backgrounds and three sizes. 
The two smaller sizes are mounted wood block style. The largest size is a framed canvas format.
If you like The Aggressive Fade, check out our sister sites: