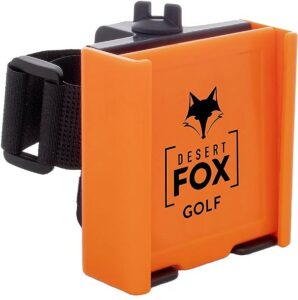 Genius invention. Ever want easy and direct access to your smartphone while golfing?
The Golf Phone Caddy mounts directly to your golf cart and gives you quick access and easy viewing of your GPS apps, music, texts, etc.
The Golf Caddy Pro adjusts to your phone with the twist of two screws. And it attaches to a golf cart within seconds using a Velcro strap. The Caddy remains secure due to the anti-slip pads on its back. 
The Caddy is highly adjustable. It fits all iPhones 6 and later,  Galaxy S4 and Note 4 and later, and most cases.  Basically, it can hold any case/phone combination between 2.6″ – 3.7″ in width and .16″ – .67″ in depth.
With Golf Phone Caddy, your phone will be held securely so it doesn't fall out of the cart. And it gives you line-of-sight access to your phone and all its apps without you having to fish around the cart trying to find it.
If you like The Aggressive Fade, check out our sister sites: