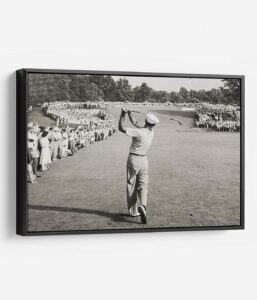 Ben Hogan was one of the purest strikers of the golf ball ever to play the game. This iconic image captures him at his best—a beautiful addition to any room.
This high-quality print comes in four sizes ranging from 12 x 18 inches to 30 x 45 inches. Perfect for placement on a shelf or as a signature piece on a wall.
The print is available in a black frame or stretched over a 1 1/2-inch pine frame.
Any golfer who loves the history of golf and the never-ending search for the perfect swing will appreciate this print.
If you like The Aggressive Fade, check out our sister sites: