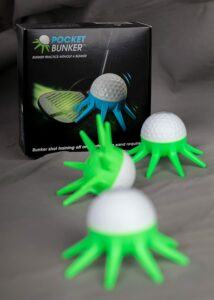 Many golfers struggle to get their golf balls out of sand bunkers.
The Pocket Bunker is one of the only aids on the market that teaches golfers how to escape the traps.
At first glance, the Pocket Bunker looks like an abstract toy octopus, but it is a great training tool.
Through practice, it teaches golfers the appropriate stroke angle and sweep of a well-hit greenside bunker shot.
The idea is to swing a sand wedge to slice the legs from underneath the "ball." Through repetition, this sweeping stroke will become natural and enable a golfer to get out of a bunker easily.
The Pocket Bunker is highly portable and easily stored in a golf bag. It can be used at home or the range. It can be used on grass. Sand is not needed.
If you like The Aggressive Fade, check out our sister sites: