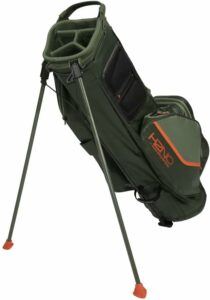 Ever want a light weight, waterproof stand bag? The Sun Mountain 2022 H2NO Lite Speed is a winner!
The H2NO Lite Speed weighs only 4.2 pounds and has high quality, fully waterproof fabric, seams, and zippers, and comes with a matching rainhood.
Although slightly smaller than some stand bags, the Lite Speed is a full-feature bag with six pockets and an eight-inch, four-opening top with four full-length dividers.
The bag also comes with Sun Mountain's high-quality stand and proprietary sculpted X-Strap, Dual Strap System.
If you like The Aggressive Fade, check out our sister sites: