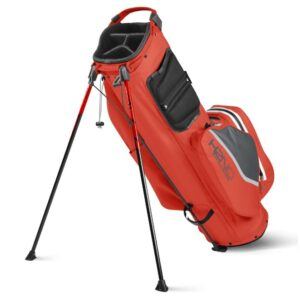 Ever want a lightweight, waterproof stand bag? Sun Mountain just introduced the 2021 H2NO LiteSpeed. Looks like a winner!
The H2NO LiteSpeed weighs only 4.3 pounds and has high quality, fully waterproof fabric, seams and zippers and comes with a matching rainhood.
Although slightly smaller than some stand bags, the LiteSpeed is a full feature bag with six pockets, and an eight inch, four opening top with four full length dividers.
The bag also comes with Sun Mountain's high quality stand and their proprietary sculpted X-Strap, Dual Strap System.