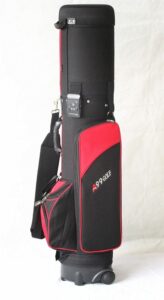 Are you looking for a golf travel bag to take directly onto the course? The Travel Mate III might be the perfect bag for your needs.
The Travel Mate III has a hard top for travel that can be removed, revealing a nine-inch diameter, six-opening golf top. This means that there is no bulky travel case that you have to put your regular golf bag into.
The hard top and construction of the body will protect your clubs during transit. The removable hard top comes with a TSA lock for airport security.
The bag is easy to move around with heavy-duty wheels, a single shoulder strap, and a tow/pull handle on top.
The bag is further protected by a protective "skin" that covers the bag during transit.
We love this travel bag because of the convenience of going from the airplane to the golf course by removing the skin and hard top.
If you like The Aggressive Fade, check out our sister sites: