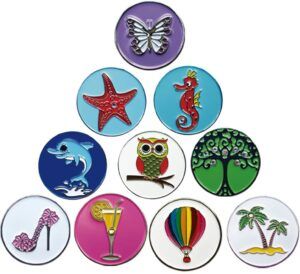 Looking for a small gift for the female golfer in your life? Take a look at these fun golf ball markers.
PINMIE offers 15 different sets of markers to choose from. Each set has 10 markers with funny, stylish, patriotic, or just plain cool images.
The markers are standard size at 24.4 mm, slightly smaller than a quarter. They fit into most magnetic hat clips and magnetic divot tools.
Great stocking stuffer.