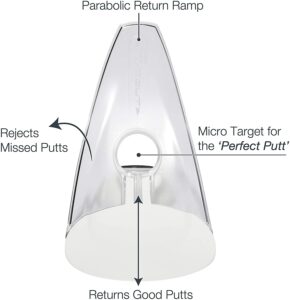 It is not often that you can say that one of the highest-rated golf putting aids is based on a parabolic curve design. But this one is!
The PuttOut Trainer helps golfers work on the speed and aim of their putts.
It is scientifically designed to auto-return your good putts, reject missed putts, and hold your perfect putt.
By design, when you hit the ball on target too fast, the ball will return the same distance it would have gone past the hole if it had missed. If a putt is offline, it rolls off the side.
The trainer is collapsible, made of high-quality polycarbonate, and is available in four colors.
If you like The Aggressive Fade, check out our sister sites: