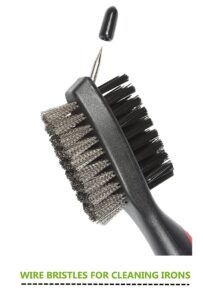 It is really hard to keep your golf club faces clean on the golf course.  This club brush and groove cleaner is a great on-course tool for keeping your club faces clean.
When you take a divot, hit from sand, or just chip out of the rough, your clubs are going to get dirty. And, your grooves are going to get filled with grit and grime.
The tool comes with wire bristles for cleaning irons and nylon bristles for cleaning driver, woods and hybrids.
There are two upgrades that separate this tool from others. First, it has a sharp, metal pick for digging out embedded dirt from within the grooves of your irons and wedges. And second, the tool comes with a retractable zipline so that the tool can be used while hanging from its carabiner attached to your bag.
Every golfer needs a tool like this to maintain the performance of their clubs.