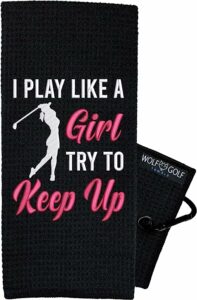 With sayings like "I Play Like A Girl — Try To Keep Up" and "This Girl's Got Drive," these high-quality golf towels throw off the perfect amount of attitude and swagger.
The towels are 16 X 24 inches in size, 100% cotton, and professionally embroidered in the USA.
With a variety of different images/sayings to choose from, each of these towels would make an excellent gift for any fun-loving female golfer.
Great quality and a perfect amount of sass.
If you like The Aggressive Fade, check out our sister sites: