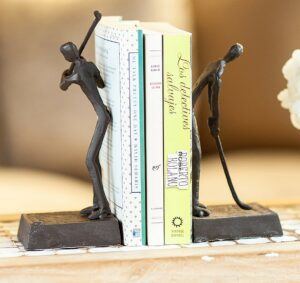 Rustic yet sophisticated, cast-iron golfer bookends.
Perfect for holding and displaying your golf book collection.
Hogan, Pelz, Faherty, Woods, etc.
A terrific gift for any golfer who truly loves the game.
The golfers are 3 5/8″ by 3 1/8″ at the base and either 7 3/8″ or 8 3/4″ in height.
If you like The Aggressive Fade, check out our sister sites: