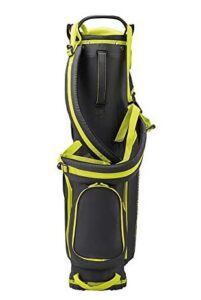 Over the last five years, the golf bag industry has been focused on one thing: Can we make golf bags even lighter?
TaylorMade's LiteTech Stand Bag is one of the lightest on the market. And, it offers some of the best features in its weight class.
The Lite Tech is LIGHT. It weighs only 3 pounds which is really light.
What is even better is that the LiteTech is a full-featured, 36″ tall bag.
It comes with a padded four opening top with full length dividers as well as six pockets including a full-length side apparel pocket.
TaylorMade did not skimp on the comfort of the shoulder strap system and the bag comes with one of the best base and leg release mechanisms in the industry.
The LiteTech is a fantastic full-featured bag regardless of its very light weight.
For more information on the lightest stand bags, check out our full review at our sister site. Click Here