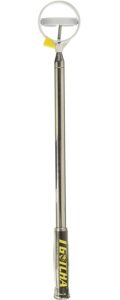 Are you tired of losing golf balls in water hazards or dense bushes? Ever fall into a pond trying to reach a club with a 6-iron?
Or, do you know someone who enjoys scavenging for lost balls?
The IGOTCHA Golf Bag Retriever is one of the highest-rated extension golf retrievers on the market.
IGOTCHA comes in multiple lengths. The retriever pictured to the left can reach up to 14 feet. It collapses down to 17.5 inches and weighs only 10 ounces.
Don't lose another ball that is just out of reach.
If you like The Aggressive Fade, check out our sister sites: