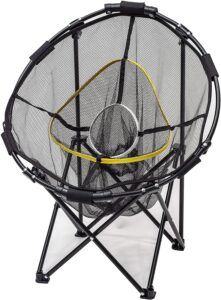 Few golfers spend enough time practicing their short game. This collapsible chipping net eliminates the excuses and allows golfers to practice right at home.
The chipping net comes in two different sizes. Both models have three nested baskets.
The three nested baskets allow golfers to focus on smaller and smaller tagrets as their skills increase.
The chipping net can be assembled in seconds or can be collapsed to a small and highly portable size.
Great gift for golfers looking to sharpen their chipping accuracy.