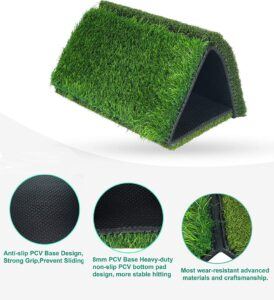 Highly-rated practice mat that simulates three turf conditions — rough, fairway, and tee box.
Great for getting a realistic feel when practicing chipping, pitching, and full swing.
The turf is highly resistant to wear and tear.
The 8 mm rubber base is durable, thick, and heavy to minimize sliding on impact.
In addition, the heavy base offers significant shock absorption to protect clubs and, more importantly, a golfer's arms and wrists.
The 3 In 1 Mat is 16 X 25.2 inches and is available in two types: a version (as pictured above) with three turf heights and a version with two turf heights, and an additional "swing detection" surface.
A bonus with this mat is that it can fold down to 16 X 8.3 inches for easier carrying.
If you like The Aggressive Fade, check out our sister sites: