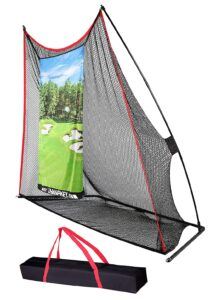 Highly-rated, 10 X 8 foot golf practice net with optional hanging impact target.
Why aim at a blank net when you can visualize your ball flying directly onto the green?
High quality construction. Made with stainless steel frame, 16 mm fiberglass support poles, and rugged 5-ply knotless thick netting. Target is made of durable impact resistant cloth.
At 10 feet wide and 8 feet high, the net is a great size and shape for backyard or garage use.
There are a ton of golf practice nets out there. This is the only one we've seen with an optional golf course target image.